Tools-------Hammer Nail Fastening Machine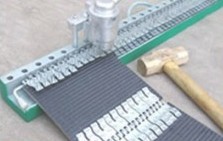 Hammer type fastening machine is commonly used belt fastening machine, hammer nail machine nail has the advantages of convenient use, reasonable price, hammer type fastening machine is mainly used to nail row nail.
The product features:
1 Good quality: button button when the conveyor belt three point positioning using cross order button so that the conveyor belt extrusion deformation of the uniform distribution to ensure the straightness of the nail fastener joints from the conveyor belt thickness changethe influence of each buckle can be set.
2 Convenient operation: conveyor belt can be conveniently mounted button machine on the belt buckle. Thus greatly save button button operation auxiliary time can be easily mastered can ensure operation quality of operating environment requirements low.
3 Long service life: the buttoning machine key parts with special steel solidreliable.
Product specifications: according to the length of the buttoning machine specifications are 650mm1000mm
4 Factory configuration: machine assembly guide film. A positioning pinhammer each one, a technical data